At Northwest Barbeque Cleaning and Restoration, we provide a complete BBQ cleaning service that removes all traces of grease, fat and carbon, especially in places you can't see. Grill cleaning in Portland, OR and the surrounding area, including Southwest Washington. Give us a call at 360-980-8111 .
Our Process Includes:
Complete degreasing of the following areas:
Hood
Wire Catch Pan
Control Knobs
Drip Pans
Rotisserie Racks
Igniters
Pull Out Trays
Thermometer
Burners
Components deep cleaned in our steam bath:
Grill Racks
Flavorizer Bars
Heat Bars
Complete Inspection of the following parts:
Burners
Pressure Regulator
Igniters
Venturi Tubes
At the end of the process, we'll polish the entire grill, making it look almost new again.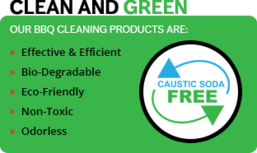 Note: Our cleaning process does not remove of the following: Rust and Discoloration in stainless steel.